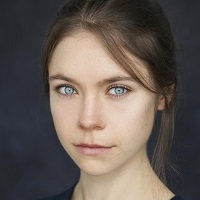 Venetia Bowe – Zoe
Venetia holds a Bachelor in Acting degree from The Lír Academy at Trinity College Dublin (in partnership with RADA).
Theatre credits include: Much Ado About Nothing (Rough Magic); Kiss Kiss Slap Slap (Chaos Factory); Asking for It (Landmark and The Everyman); This Beach (Brokentalkers) and A Doll's House (Corn Exchange). 
Film and Television credits include: Cold Courage (Luminoir); Lily (directed by Graham Cantwell); The Fall Of The House Of Lawrence (directed by TJ O'Grady Peyton); Wishbone (directed by Myrid Carten) and Five Letters To The Stranger Who Will dissect my Brain (Tyrella Films, Junk Ensemble).