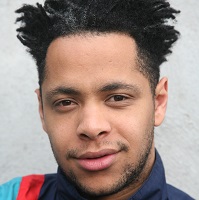 Kwaku Fortune  /  Eli
Kwaku holds a Bachelor in Acting degree from The Lir Academy at Trinity College Dublin (in partnership with RADA).
Theatre credits include They Float Up (Bewleys Café Theatre); Peat (directed by Tim Crouch at The Ark); Asking for It (Landmark and the Everyman); On Raftery's Hill (Abbey Theatre) and Playboyz (Dublin Theatre Festival 2017).
Film and television credits include Normal People (BBC, Element Pictures); A Girl From Mogadishu (directed by Mary McGuckian); Animals (directed by Sophie Hyde) and Kissing Candice (directed by Aoife McArdle).